Dear University, you suck.
No really, you do. So, raise your hands. How many of you are in college at the moment? How many of you just finished your finals? How many of you are still in the process of taking finals? Are you dead yet? Suicidal? Tired? Yeah, I know how it goes. I am a sophomore in college and am in the process of transferring colleges for the spring semester (because I crave big city life), and I am tired. I woke up in the middle of the night last night with the sneaking suspicion that I had something due and would have to pull yet another all-nighter. Because that's the kind of college student I am. I come back from class, catch lunch (at 5 in the afternoon), take a quick nap, get dragged out to a party or a park or something, go to ihop at 4 in the morning, and come back at 6AM, doing homework until classes start.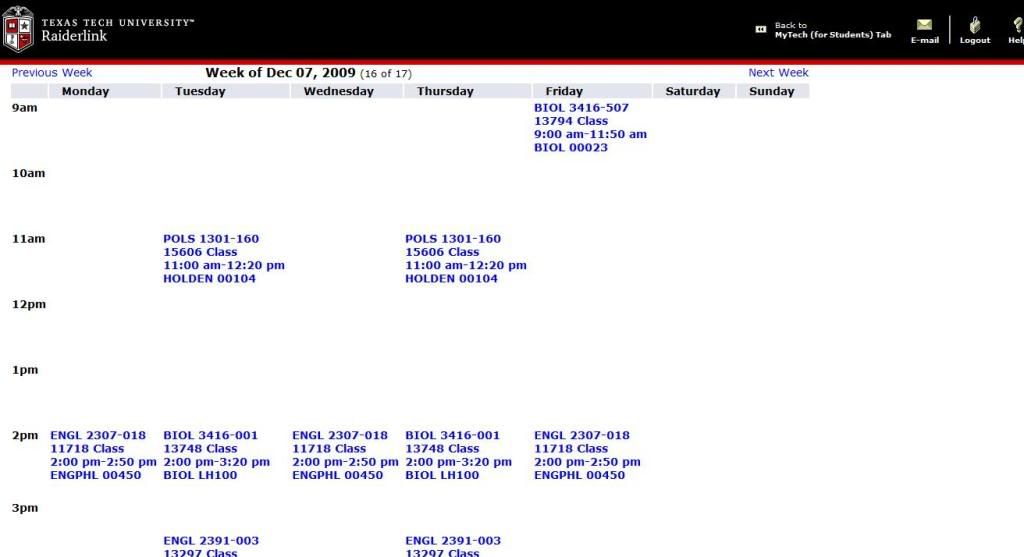 Picture: Some of my schedule for this semester that just passed. Note the lack of early classes.
That being said, here's my college survival guide. Take it as seriously as you want.
Don't party in the middle of the week (excessively). If you're at a club with a guy who says, "are you okay? I don't want to get you drunk!" as he hands you a shot of tequila, get out of there. No, really. This general philosophy applies with any party. If you've got something due the next day or a test, I don't care how good your roommate's secret sobriety concoction is; get out of there. Put down the beer. Don't do another shot. You don't want to be that person, the twenty-five year old sophomore who's been going to school since she was twenty but keeps dropping classes. Get your stuff done during the week and go out during the weekend. And if you do go out at night, take classes accordingly.
For God's sake, don't get in more debt. If your parents give you money, you're golden, but don't use a credit card. If you've got a job, think of your necessities most. If you're broke, don't spend $25 on a bottle of Bacardi Razz. Don't pay a $15 cover charge. Don't take a road trip that involves $50 of gas money and another $100 for eating out, buying concert tickets, etc. Just be reasonable. If you want to do something or know you're going to be spontaneous, save up money in advance. Don't be like me and end up having to scrounge for two months to pay off a $300 credit card bill because of a fun weekend in Austin. It's just not worth it. But if you are going to do it, don't let interest kill you. Get that thing paid off. Besides, there are things you can do for free or cheap. Karaoke is cheap. The park is free (and freaking awesome in the middle of the night).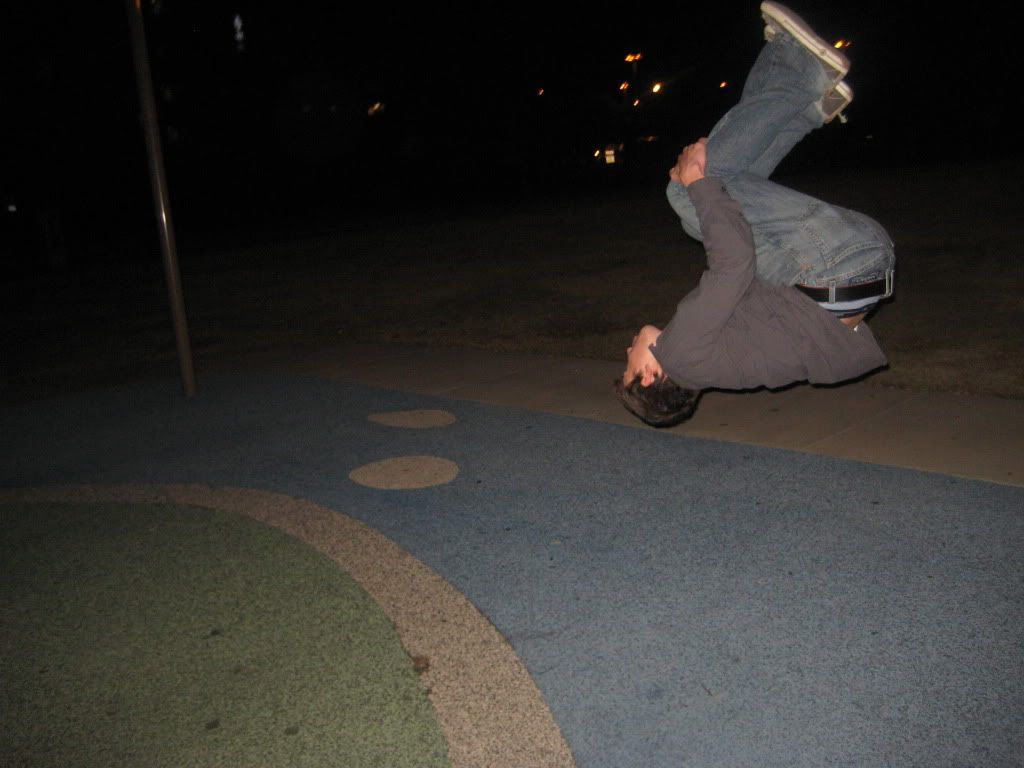 Picture: Fun at the park in the middle of the night.
Get your work done. If you can study with your friends, go for it, but pick ones you can actually study with. Ninety percent of my friends can't study in groups, and when I try to study with them, we'll sit in a study lounge for five hours and do fifteen minutes worth of homework. There are a couple of friends who motivate me to work. They're the ones I like to study with. Don't procrastinate. Just get it done. You'll be saner because of it. And pace yourself. If you can't go 36 hours without sleeping, start doing homework before four in the morning. And furthermore, if you're going to pull an all-nighter, make sure that even that's enough time to get whatever it is done. One of my roommates is an art major, and she'd work for twelve hours straight and still not get her watercolor designs done. Just pace yourself and don't run out of time. You're there for school, first and foremost.
Picture: One of my best friends studying for her Astronomy test as I studied for Genetics.
Never ever decide spontaneously to get a tattoo, a piercing, weird haircut, or color. I've got green and purple in my hair at the moment, and that was done at a salon with two weeks worth of planning involved. A friend of mine decided spur of the moment pink was a good idea and thought it prudent to have it done immediately at a cheap salon. Then again, I couldn't talk that same friend out of piercing her nose herself. Needless to say, she now has to pay $200 for color correction and a hospital bill for her infected nose. True story. Think about things.
Relax. It's going to be okay. Do you have a D in a class? It's not the end of the world. I've got an evil teacher who gave me a C this semester, only C I've ever gotten, and it dropped by GPA down to a 3.6. I'm not killing myself over it. I'm evaluating what I could've done better and am applying it toward future classes. If you fail a test, it'll be okay. I promise. I repeat: It's not the end of the world. I've you've got to drop a class occasionally, that's fine, too. Just make sure you know what your school's drop policies are. Here in Texas, you have a limited number of drops you can use, for example.
Picture: Displaying my new hair color.
If you have to change your major, it'll also be okay. So you'd rather be a painter instead of a doctor, huh? That's alright. Just decide how important money is to you. Take it from someone who's switching from Biology to Literary Studies. I know most of you want to be successful, and with hard work, I firmly believe you can be, regardless of how much money you're going to make or how hard it is to make a decent living in your chosen career path.
Make amazing friends. Make the kind of friends who will come get you in the middle of the night. Make the kind of friends who will want to physically harm someone who hurts you (although I don't condone violence, I've got guy friends who literally have done that). Make the type of friends who will let you cry into their shirt and tell you the truth about whatever the situation is. They'll be your greatest allies. Make the kind of friends who encourage you to do your work and strive for the best. Make the kind of friends who will tell you when your boyfriend is a jerk or when you're being childish. Make the kind of friends who turn into your family. And don't settle for less.
Picture: In which my friend jizzes in his pants (or at least sings about it)
College is a pretty cool experience, and I know when I was a freshman, I was scared to death. I was scared about everything from partying to tests. If you don't know how to meet people, join organizations. I ended up running and getting a position in student government, and those are some of the most motivated friends I've made. Join clubs, activities, the paper, the radio, etc. If your school doesn't have those, just sit next to someone in class and start talking. Ask them what they're doing this weekend. Scope out if you have anything in common. Worst case scenario, you can transfer.
Anyway, hope everyone is doing well and has a good holiday. I'll try to get another article on fansubbing out for New Year's. I've been getting some requests for that.
Note: Grats to everyone who had a successful nanowrimo! All pictures taken and posted with permission!

TrackBack URI for this entry
Comments
(25)
Subscribe to this comment's feed
Show/hide comments
Write comment